New cholera strain strikes India
New cholera strain strikes India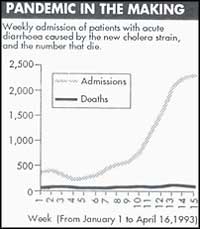 A NEW strain of cholera bacteria -- Vibrio cholerae non-01 -- that scientists say was earlier associated only with sporadic diarrhoea cases, has invaded India and Bangladesh.

The killer microbe has already claimed more than 1,000 lives in the Indian subcontinent. West Bengal and Tamil Nadu are the worst-hit in India, with 230 deaths and 15,000 cases reported in Calcutta alone. In Bangladesh, 1,300 persons have died of the new cholera since January this year and 85,000 cases have been reported, according to reports in a recent issue of The Lancet.

Scientists at Calcutta's National Institute of Cholera and Enteric Diseases, who are investigating the new strain, have warned that unless it is closely monitored and restrained, the killer microbe will soon spread all over India.

Studies indicate existing vaccines are ineffective against the microbe. Says Demissic Habte, director of Dhaka's International Centre for Diarrhoeal Disease Research, "This is a new organism causing a mass epidemic, and it's not going to be solved tomorrow or the day after."

Scientists say most of the bacteria they have isolated are resistant to antibiotics such as trimoxazole, streptomycin and furazolidone, but susceptible to others like tetracycline. Doctors are concerned because, unlike earlier diarrhoeal outbreaks, the new strain is claiming more adult victims than children, a phenomenon, they say, is common when a new pathogen invades an area.