Old malaria control method regains ground
Old malaria control method regains ground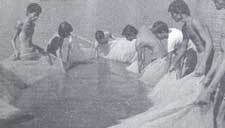 THE NATION'S malaria control authorities are increasingly resorting to a method introduced by the British as far back as 1908 to check the disease: rearing fish that feed on mosquito larvae. The problem they face is that after a sharp decline in malaria from 6.46 million cases in the mid-70s to 2.2 million in the mid-80s, the curve plateaued mainly because mosquitoes seemed to have acquired resistance to chemical sprays.

But Indian officials have learned over the years that using edible fish varieties results in both effective malaria control and impressive profits -- and this should be good news to the harried bureaucrats in the health ministry, who earmark a whopping 45 per cent of their budget for anti-malaria projects.

The Malaria Research Centre (MRC) here, which has worked extensively in fish biocontrol methods, has identified four strains of bacteria and fungi that are extremely pathogeneic to mosquitoes. Though toxicity tests are continuing on these strains, which have been registered with the Institut Pasteur in France, the expertise gained by the MRC from its bioenvironmental control project in Nadiad, Gujarat, has already been made available to 12 states. Karnataka is scheduled to join this science-and-technology project later.

Says Deepak Gupta, who has worked at Nadiad from the start, "These new advances will be just as effective and environment-friendly as control through fish. But what sets our project apart is still our demonstration that malaria vector control can be self-financing." And, actually leave a margin for more development.

The Nadiad team identified two fish varieties Gambusia and the guppy (Poecilia reticulata) -- that can coexist with Indian carp and shrimp. Tilapia, though popular elsewhere, was rejected because it is carnivorous and often cannibalistic and this would hurt a profit-seeking venture. The carp have been doing well with Gambusia and Poecilia, however, and an MRC study shows the Nadiad project is netting three times the evenue of government fisheries in the region.

With profits from fish sales subsidising the project, the cost of biocontrol is only Rs 4.97 per capita per year, while DDT and HCH (hexachlorohexane) cost more than Rs 6 and malathion works out to a staggering Rs 22.73. Popular participation can further reduce costs and the MRC has been encouraging villagers by inviting them to the Nadiad field station and regularly conducting health education programmes.

As a result, the people have become so involved that besides taking over much of the work of eliminating mosquito-breeding grounds -- including cleaning up their own homes and clearing water hyacinth from ponds -- they even contribute money for the project. One MRC official noted that while it is occasionally difficult to get panchayats to rent out their ponds for the project, support is complete otherwise.

Composite fish culture -- production of food fish along with larvivorous fish-- can generate a profit in excess of Rs 6,000 per hectare per year. And, more money can also come in from social forestry, with eucalyptus as the favoured tree because its high uptake of water helps to drain stagnant pools, thereby reducing mosquito breeding. Other trees have been planted on wastelands for wood and forest produce.

Bioenvironmental control is also proving itself in other states. In Karnataka, for instance, where it was introduced in 311 of 414 malaria control zones, it saved Rs 5 crore for the eradication programme last year. In Madras, state government and voluntary organisations, especially INTACH, have pitched in to rid the city of Anopheles stephensi and Aedes aegypti species of mosquito, which carry malaria and dengue fevers, respectively.

The strategy has also been tried out at the huge industrial complexes of Bharat Heavy Electricals Ltd and Indian Drugs and Pharmaceuticals Ltd at Hardwar. And in Car Nicobar, bioenvironmental control has resulted in the incidence of malaria dropping by 50 per cent. Even in Shahjahanpur, Uttar Pradesh, once notorious for malaria outbreaks, the menace has been tamed. An MRC official disclosed that a huge volume of data relative to Delhi has been collected and an action plan for biocontrol is expected within a year.

"Right now," says T Adak, coordinator of project field stations, "the MRC is hoping for much from the new strains of pathogenic fungi and bacteria (Bacillus thuringiensis and Bacillus sphaericus). Lab tests are over and field trials are being contemplated."

Meanwhile, in the pipeline is a study that the World Health Organisation is likely to fund, involving mosquito breeding in rice paddies and strategies to control it.

With luck, this project, too, will be bio-environmental.