Trends in global CO2 emissions 2012
Trends in global CO2 emissions 2012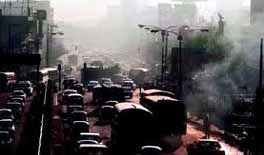 Global emissions of CO2 increased by 3% last year, reaching an all-time high of 34 billion tonnes in 2011, according to this report released by European Commission. Top emitters contributing to this increase in CO2 are China, US, EU, India, the Russia & Japan.
This report discusses the results of a trend assessment of global CO2 emissions up to 2011 and updates last year's assessment. This assessment focusses on the changes in annual CO2 emissions from 2010 to 2011, and includes not only fossil fuel combustion on which the BP reports are based, but also incorporates all other relevant CO2 emissions sources including flaring of waste gas during oil production, cement clinker production and other limestone uses, feedstock and other non-energy uses of fuels, and several other small sources. After a short description of the methods used, first present a summary of recent CO2 emission trends, by region and by country, and of the underlying trend of fossil fuel use, non-fossil energy and of other CO2 sources. To provide a broader context of the global trends also assess the cumulative global CO2 emissions of the last decade, i.e. since 2000, and compare it with scientific literature that analyse global emissions in relation to the target of 2 oC maximum global warming in the 21st century, which was adopted in the UN climate negotiations.
See Also
Report: Global CO2 emissions 2011.
Report: Analysing the emission gap.
Opinion: Equity - the next frontier in climate talks.
Report: Bridging the emissions gap.
Report: CO2 emissions from fuel combustionb - highlights.
Report: Renewables 2012.
Report: BP statistical review of world...
Feature: Time-out.
Feature: CO2 observations at Cape Rama, India for the period 1993-2002.